Industrial Ventilation Specialists since 1938
#1 Stocking Manufacturer of Wall & Roof Fans up to 60″
Complete Ventilation Solutions
Fabrication + Stocking Wholesaler
We Ship World-Wide
Serving Atlanta and the World for Over 80 Years
Who We Are
Industrial Ventilation Made Simple:
• Custom Manufacturing
• Huge Range of Available Products from Top Brands
• System Design from Ventilation Engineers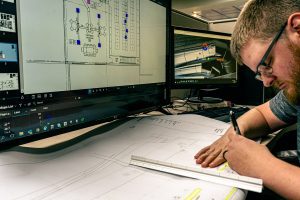 Let's Get Started
Contact Us Using the Form on This Page
Call and Speak To One of Our Product Experts
Serving Atlanta and surrounding states for over 80 years, we have always been one of the largest fan stocking centers in the south. With a strong focus on industrial ventilation, we have worked on some of the largest automotive and tire factories in the south. In addition, we carry all of the air distribution products as a manufacturer's rep. What separates us from the competition is not only our large stocking facilities but also our custom sheet metal fabrication abilities. All of our wall box housings are made in-house as well as curbs and curb adapters. Recently we have added our round duct manufacturing which includes both spiral duct and a full line of low-pressure snap lock ductwork. Whether it's residential adjustable elbows or commercial double wall ductwork, we will make it for you!